Sorry ladies! Beauty is hard work!
 
Anyone, who claims differently, is a pathetic liar.
Even the routine tasks of being beautiful are hard. Giving that final touch of impeccability to your maquillage is daunting. Walking with elegant spright on high heels is a daily feat in defiance of gravity. Rummaging through your wardrobe everyday to pick the right outfit can be a source of anxiety.

Wasp Waist Actress and Model Kelly Brook
Beauty is hard work!
 
All work is done with resources. The more resources, you have; the more efficient and effective you can become at performing your work and vice versa.
 
Is it any surprise that the affluent look more beautiful than the less affluent?
 
You can either do all the work yourself or you can outsource some of the work. You can't outsource the work, if your checkbook has dozens of constraints.
 
Constraints on resources correlate with constraints on choices.
If you slavishly gather coupons throughout the week to gain a meager discount during your next shopping; then, you are probably not considering a weekend massage at the country club spa. If you are starkly aware of the cap on your credit card, chances are, you still have a dazzlingly clear memory of your last visit to the pedicurists; because for you, such visits are rare treats.
 
If you are on a budget, body-sculpting treatment for waistline reduction is definitely not on your radar screen. Even high-end health insurance does not cover such treatments. You have to reach into your purse and pay up straight.
 
State-of-the-art liposuction surgery can give you those full, lean thighs of Carrie Underwood. But liposuction comes at a price. The kind of price, that will blast shock waves into your budget.
Look at the soft, impeccable and symmetrical face of Sandra Bullock! She is pushing 50; yet, her face is just as smooth as a baby's. Would you like to maintain your youthful, wrinkle-free face? You'll have to sacrifice your child's college fund to pay for laser skin rejuvenation.
 
The point is shiningly clear.
 
Beauty requires resources. Beauty requires an Oprah-Winfrey bank account!
In our high-tech age, the possibilities are endless, if you have the dough. We are not talking about middle class money. The kind, which doctors, lawyers and engineers, earn.
 
We are talking about FUCK YOU MONEY. The kind, which successful entrepreneurs, movie stars and corporate big cats, make.
 
Switch on your imagination! Visualize huge sediments of soot-covered carbon, lying miles underground. Miners bore tunnels deep into the earth and extract these carbon sediments! The raw carbon is transported to a workshop where it is refined, shaped and polished to reveal its true self: a sparkling diamond.
 
Fuck-you-money can transform any duck into a graceful swan; in about the same way, that soot-covered carbon can be refined into radiant diamonds.
Don't expect Oprah to lose her looks anytime soon! Look at Helen Mirren (born July 26, 1945). This lady is pushing 70; yet, she is still dashingly elegant.
 
Do you know over-the-hill 40year olds, who suffer from back pain, knee pain and obesity? Before they hit 60, they will be as attractive as a sink full of unwashed dishes.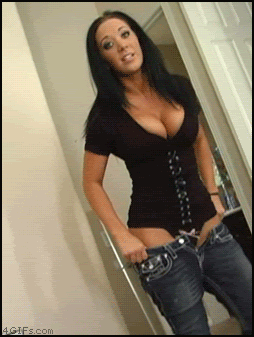 Sumptuous Brunette with Hourglass Silhouette
It's not their fault. Beauty is hard work. Their active years are wasted on the treadmill, toiling till exhaustion, just to pay for the groceries, the mortgage and the children's schooling. At the end of the month, there is no money left for teeth whitening or ultherapy.
 
Ultherapy is a non-surgical face, neck and chest lifting procedure. Ultherapy uses ultrasound to tone your skin and smooth out wrinkles.
 
You have heard the cliché, "money can't buy happiness."
 
Yeah? It can buy beauty. And that is an indisputable fact!
 
If in doubt, ask the voluptuous Monica Bellucci (born 1964). Quite 50, but still matronizing the front pages of FHM, Maxim and Cosmopolitan.
What if you do not have the Oprah-Winfrey bank account? Can you still be a graceful swan?
 
That's going to be a monumental challenge, when you are past 40.
The good news is you can maintain an hourglass silhouette on any budget.
You can get a flat stomach irrespective of your budget. There is a simple, century old, time-tested shortcut. The standard formula of regular exercise and good nutrition does not work for everyone.
 
Click here to find out the guaranteed short-cut to an hourglass silhouette.