Nothing good comes easy.
 
And the highly prized hourglass silhouette is no exception.
 
The tortuous path to a sexy flat stomach is regular exercise and good nutrition. Everybody knows this. Yet, the world is crowded by over-sized pigs who sincerely desire to lose weight.
 
The explosive growth of the weight loss industry is the most startling confirmation of this obvious fact. The desire for people to lose weight is so strong that, they are willing to pay fortunes to shed a few tons.
 
Yeah, it takes resources to develop that lean, breathtaking hourglass silhouette. But money is not the only resource required.
 
The other two indispensable resources, which you require, are time and consistent self-discipline.
 
Uuhh! Discipline!
 
Doesn't that d-word, just transfuse an ice-cold chill down your spin? It is like slipping into a frozen lake. Remember the scene in Titanic (1997), in which, Kate Winslet was contemplating jumping off the bow into the Atlantic. Leonardi DiCaprio cautioned her that, the frost would feel like a thousand knives, stabbing every inch of her body.
 

Kate Winslet exhibits Hourglass figure in a Stella McCartney during the Venice Film Festival
Maybe, you are not that scared of self-discipline. But most people are.
 
Nonetheless, iron-clad self-discipline is the excruciating price to be paid to achieve that craved hourglass silhouette. The problem, preventing most people from getting that lean, toned body, has never been lack of information. It has never been ignorance of the magic diet. And frankly, it has never been a lack of time, either.
The problem was, is and will always be the lack of self-discipline.
 
There is a simple time-tested solution to this problem.
 
Shapewear!!!!!!!!!!!!!!!!!!!!!!!!!!!!!!!!!
 
Shapewear is beauty on a budget.
 
Your body type is everything. You might want to go for a camisole, girdle or waist cincher, depending on your body type.
 
Back in the day, corsets were the rage. We have come a long way since tightlacing. Corsets have seen a brief resurgence in recent years only to quickly melt away from the fashion journals once more.
Watch Kate Winslet in the scene from Titanic (1997). Right there is one reason Victorian era style corsets aren't returning anytime soon. Wearing those corsets often required a second person, usually a maid to tighten the lace.
 
Do you have a maid?
 
Tingo! The point hits home. The whole point of beauty on a budget is completely defeated, if you are rich enough to hire a maid.
 
[vimeo http://www.vimeo.com/66615298 w=500&h=375]
Corset Tightlacing Kate Winslet – Titanic (1997) from Akashic Records on Vimeo.
Besides, there are colossal practicality issues. Try taking a leak at the workplace bathroom stall with one of those corsets which extend down to your hips. In addition, the boning in corsets is stiff. They are mostly made from plastic or metal. Try shoving that in the washing machine.
The dinosaurs are not about to make a comeback. Neither are corsets!
 
What? "snarled the mean, domineering lady in shiny black latex."
 
Sorry mistress! We weren't talking about you!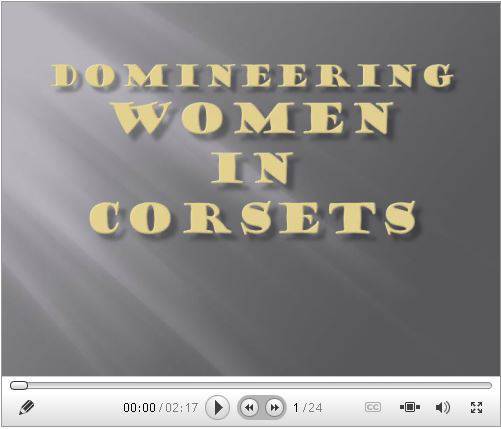 You got that right! You don't want to mess with a dominatrix. One place corsets are not losing their appeal is sexual fetishes, notably BDSM. Apart from this last stand, corsets aren't coming back.
 
Shapewear is the path to an hourglass silhouette on a budget.